2023 is sure to be an eventful year in Malaysia, with a variety of interesting events taking place. From cultural festivals to international artist concerts, there will be something for everyone.
Here we will explore some of the most interesting events taking place in Malaysia soon and in the coming future. With so much going on, 2023 is sure to be an exciting time for both locals and visitors alike.
1. Beauty and the Beast Kuala Lumpur
Disney fans, listen up! Do you ever wanna play dress up with your friends and family as your favourite Disney characters? Well… now you have the chance to! Happening on the 24th of June, get ready for Beauty and the Beast experience when it hits the streets of Kuala Lumpur!
This magical outdoor adventure, based on the original 18th century fairy tale, combines the challenge of an escape room with the excitement of an interactive scavenger hunt.
As your team races against the clock to help Beauty reverse the curse, you must search for clues, solve puzzles, and complete challenges.
2. The World of Nickelodeon Malaysia
From April 28 to July 23, 2023, The World of Nickelodeon will be held at the Pavilion Bukit Jalil in downtown KL. At 17 stations spread across 14,000 square feet of event space, a funfair designed for families, kids and the young-at-heart will provide plenty of photo opportunities, games and interactions with famous characters such as PAW Patrol, Sponge Bob Square Pants, Teenage Mutant Ninja Turtles, Dora the Explorer and Bubble Guppies.
Prepare your cameras and meet your favourite Nickelodeon characters this summer on the weekends or during the mid-year school holidays!
3. Coldplay: Music of the Spheres
Coldplay has announced that they will return to Asia and Australia in November 2023 for a special run of stadium shows as part of their record-breaking Music Of The Spheres World Tour. The band's first ever show in Kuala Lumpur will take place on November 22nd at National Stadium Bukit Jalil.
Since the tour's first date in March 2022, the band has sold more tickets than any other artist in the world, garnering praise from fans and critics alike and earning accolades such as Favourite Touring Artist at the 2022 AMAs and Tour of the Year at the 2023 iHeartRadio Awards.
4. Wine & Network – A Tasting Experience
Wine & Network – A Tasting Experience is an educational event on the 25th of May designed to give novice wine drinkers and curious individuals a thorough understanding of wine tasting. To provide attendees with a diverse experience, the event will feature six different labels of wines from various regions and styles. Furthermore, the event will allow young entrepreneurs to network and connect with other like-minded individuals. 
Sip on a variety of delectable wines while learning the art of winemaking and networking with other like-minded entrepreneurs and professionals. This is an excellent opportunity to broaden your wine knowledge and make valuable industry connections. Don't miss out on this one-of-a-kind and enjoyable event!
5. One Love Asia Festival 2023
One Love Asia Festival 2023 Malaysia, a roving Chinese music festival in Asia, will take place at Sunway Lagoon on May 13 and 14, 2023.
The two-day concert, which features 15 artists from Taiwan, Hong Kong, Singapore, and Malaysia, offers Mandopop and Cantopop fans two nights of greatest hits from talented singers such as WeiBird, David Tao, Yoga Lin, Hebe Tien, and others.
6. The Magnificent Baling 100
The Magnificent Baling 100 (TMB100) was established as a trail running event to promote Baling as an eco-tourism destination. The Baling District is an administrative district in Malaysia's south-eastern state of Kedah. It is the second largest district in Kedah, located about 110 kilometres from Alor Setar, and borders Perak and Betong, Thailand's southernmost town.
This year's TMB100 will include 10km, 25km, 50km, and 100km categories for the first time. Participants will run through some of the iconic landscape of Baling, including paddy fields, traditional Malay villages, orchards, jungles, and wading through refreshing rivers. This race is a fast course with less technical sections that is suitable for trail runners who are new to the sport.
7. NCT DREAM World Tour 2023
The NCT DREAM World Tour 2023 will visit Malaysia on May 20, 2023, at Axiata Arena KL. The concert is expected to include songs from the South Korean boyband's most recent studio album, 'Glitch Mode,' as well as all-time favourites such as 'Life Is Still Going On,' 'Chewing Gum,' 'Dive Into You,' 'Rainbow,' and more.
Are you ready to meet the 7-member NCT Dream () in person this May, NCTzen in Malaysia?
8. Why Engaging Men & Boys is Vital for Gender Equality Initiatives
In Malaysia, including men and boys in gender equality initiatives is a relatively new concept, with the majority of current efforts focusing on women's empowerment. Men's roles in closing the gender gap are conspicuously absent.
Dr. Michael Flood, an internationally recognised researcher on men, masculinities, and gender, violence against women, and violence prevention, will join us for an exclusive conversation. In this session, he will discuss why engaging men and boys is critical to the success of gender equality initiatives.
Following the session, all ticket purchasers will receive a link to the webinar recording.
9. KPJ PUTERI 30 YEARS OF CARE FUN RIDE
KPJ Puteri Specialist Hospital is marking its 30th anniversary with a 30-kilometer fun ride. This exciting event is open to all levels of cyclists and will take place on JUNE 10th, 2023 (SATURDAY) at PUTERI HARBOUR, ISKANDAR PUTERI. To participate, simply purchase your tickets now for only RM30!
You will receive a commemorative jersey and medal as part of your ticket purchase to remember your experience. In addition, there will be light food and refreshments available at the event to keep you fueled and energised.
But that's not all; participants can also win some fantastic prizes. The scenic routes with varying terrain will challenge and excite you on the 30km fun ride.
10. Panggung Malaya Pop
In today's era, young people, especially students, seem to listen more to songs from foreign countries or those that are closer to the songs of neighbouring countries. However, it should be known to all that Malaysia also has its own uniqueness in music trends, especially in the art of Pop music which brings a phenomenon to all music fans.
Hariz Fayahet, Heidi Mouru and Shahril Nizam are the three solo singers who will colour the performance at the Malaya Pop Theater Concert. Not only that, the concert that night will be livened up again with a combination of local musicians consisting of Nadir Music Official, Motherwits, Sekumpulan Orang Gila (SOG) and Masdo.
Not just a concert, this initiative will be added with an edutainment element to increase knowledge about improvisation and song composition in Sembang Pop Malaysia for only RM 15.
11. Good Ol' Speed Dating 4.0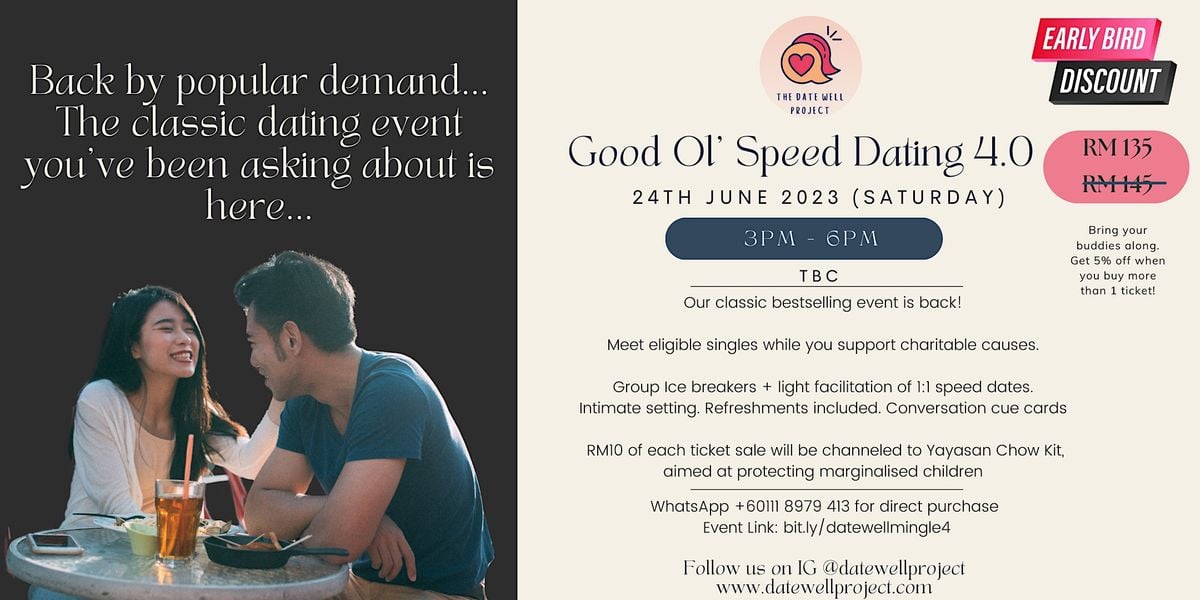 Life is too short to waste time on dating apps. The mission at The Date Well Project is to reimagine dating culture. They believe that doing good together feels good and results in meaningful relationships. Meet other singles who share your interests. All you need to do is sign up and wait for the connections to bloom.
Returning by popular demand! The first two Good Ol' Speed Dating events, 1.0 and 2.0, were completely sold out. For more, visit their Instagram page @datewellproject or their Facebook page!
Recap:
Beauty and the Beast Kuala Lumpur
The World of Nickelodeon Malaysia
Coldplay: Music of the Spheres
Wine & Network – A Tasting Experience
One Love Asia Festival 2023
The Magnificent Baling 100
NCT DREAM World Tour 2023
Why Engaging Men & Boys is Vital for Gender Equality Initiatives
KPJ PUTERI 30 YEARS OF CARE FUN RIDE
Panggung Malaya Pop
Good Ol' Speed Dating 4.0