A short getaway from the hustle and bustle of KL city is sometimes necessary to just unwind and chill 😊😊
We all deserve a relaxing retreat, but it doesn't have to cost a bomb or require a flight ticket!
You'd be surprised there are many breathtaking hidden gems with just 30 minutes to 1.5-hour drive away from where you are.
We have curated a list of 10 retreats for a perfect getaway in Selangor that you can plan ahead for this weekend!
1. Sarang by the Brook
Sarang by the Brook offers humble home sets nestled in the small town of Kuala Kubu Bharu's tropical jungle that is only 1-hour drive away from the heart of Kuala Lumpur.
Expect a comfortable getaway in the natural landscapes, as well as outdoor adventures lining up for you.
Sarang By The Brook is perfect for nature lovers and adventurers where you can have both your quiet and fun moments.
Popular Activities: Water rafting, BBQ, night jungle experience, river trekking, hot spring
2. Sekeping Serendah Retreats
Sekeping Serendah is known for its transparent and open sheds that celebrate the tropical rainforest surrounding them.
They are a private retreat with a total of 10 sheds that are kept minimalistic in design intentionally.
Rates: from RM300 – RM1360
Activities: Swimming, jungle trekking, BBQ, relax
Website: https://www.sekeping.com/serendah/home
Address: SERENDAH FS, 43300, 48200, Selangor
3. Daun Retreats
Nestled within the hills of Hulu Langat, Daun Retreats offers a more private home-y retreat for those who want to soak and unwind in the beauty of nature.
Daun Retreats consist of 3 different luxurious bungalows for you to choose your stay depending on the size of your crowd from groups to families or company gatherings.
Rates: from RM700 – RM2000
Activities: Swimming, BBQ, relax
Website: https://www.daunretreats.com/
Address: Batu 17 3/4 Dusun Tua, 43100 Ulu Langat, Malaysia
4. Tadom Hill Resorts
An all-inclusive bamboo-inspired resort, Tadom Hill is located in the Southern part of Klang Valley with only 45 minutes drive away from the city of Kuala Lumpur.
Their accommodation is architected almost entirely out of bamboo materials to showcase the traditional living culture of the Orang Asli.
They also offer a full range of facilities catering to solo travellers, friend groups, families and corporate teams.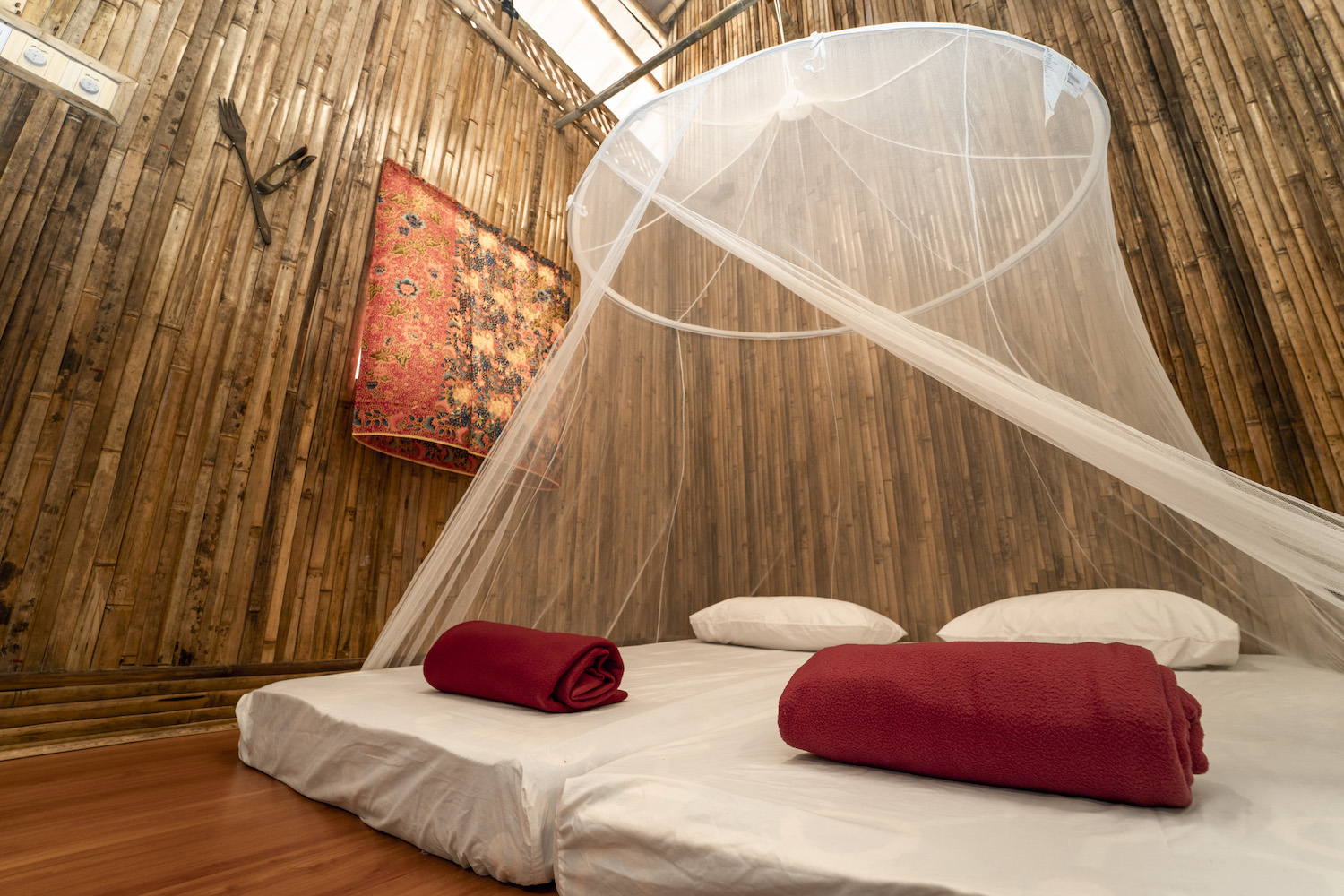 Rates: from RM170 – RM600
Activities: Bamboo diving, Tarzan swing, bamboo rafts, giant Jenga, table tennis, badminton, congkak, beach volleyball, flying fox, ATV, archery, sumpit, abseiling, bamboo playgrounds for kids
Website: https://tadomhillresorts.com
Address: Bukit Tadom, Kampung Labohan Dagang, 42700 Banting, Selangor Darul Ehsan, Malaysia.
5. Farm Ville Cafe & Homestay
Popularly known as "Sekinchan Container Hotel", Farm Ville Cafe & Homestay offers a unique experience, converting metal boxes into a space of nature and relaxation!
You get an amazing full view of Sekinchan's famous paddy fields while enjoying your stay here, especially during maturing seasons.
Because of the strategic location of Farm Ville Cafe & Homestay, visitors can enjoy various activities and attractions in Sekinchan such as the Nature Park, Sky Mirror, Paddy Factory and Pantai Redang,
Rates: from RM98 – RM250
Activities: Trampoline, mini golf, swimming, BBQ, TV room
Website: https://farmvillehomestay.com.my/home/
Address: Farm Ville Cafe & Homestay, Lot 11304, Kampung Site B, Tambahan, Jalan Tepi Sawah, Sekinchan, 45400 Sekinchan, Selangor
6. The Sticks Guide
Want to get lost in nature and experience living in a jungle home?
The Sticks would be it! Featuring 12 unique houses tucked in the lush rainforest of Fraser's Hill, The Sticks promise maximum comfort for your accommodation experience.
They ensure visitors an authentic nature experience with each house built uniquely and differently to reflect a unique element of its' natural surroundings.
Visitors also get to enjoy their in-house home-cooked dining experience throughout their getaway!
Rates: from RM342 – RM970
Activities: Jungle trekking, white water rafting, paragliding, tubing
Website: https://thesticks.my
Address: Lot 213 Jalan KKB – Fraser's Hill, Kuala Kubu Bharu, Selangor.
7. Beacon Resort
Beacon Resort is situated just 80 kilometres from KL and is the right place for you to learn more about healthy eating and take care of your health by providing 5-star accommodations and food at affordable charges. All possible because of another mission by Madam Mary Chen, the founder of Beacon Hospital.
Lose yourself in the soothing hot springs while revitalising the body's core. And try out their hot and cold hydrogen spa from Japan and pure essential oil aroma pain relief too!
Rates: Day Trip (Kids RM 70+, Adult RM 100+), 2D1N (Kids RM 150+, Adult RM 220+)
Activities: Jungle trekking, Natural Hotspring, Free Blood Test & More
Website: https://www.thehootonretreat.com/
Address: PT 4049, Mukim Sungai Gumut,, Kampung Gumut Tambahan, 44100 Kerling, Selangor
8. Balik Kampung Villa
Balik Kampung Villa (BK Villa) is a luxury retreat only 30 minutes away from Kuala Lumpur, Malaysia.
Nestled away in the tropical forests of Hulu Langat, this picturesque backdrop is the home to Balik Kampung Villa.
An authentic Balinese contemporary design of Villas featured a spacious bedroom, living room and dining hall.
Rates: RM 2,480 – RM 3,880

Activities: –

Website: http://www.bk-villa.com/

Address: 49, B52,Batu, Jalan 17, 43100 Hulu Langat, Selangor
9. Dusuntara Jungle Resort
Only 50km from Kuala Lumpur is the well-kept secret paradise of Dusuntara Jungle Retreat sitting amidst orchards, lush greenery, tropical rainforest and river streams at the foothills of scenic and majestic mountains.
There is a dedicated dining hall with ample of space to ensure everyone is able to enjoy their delicious meal comfortably. This dining hall also features a karaoke machine for all those who would love to sing the night away.
Rates: –

Activities: BBQ, karaoke, pool and jacuzzi

Website: https://www.dusuntararesort.com/

Address: Lot 1962, Mukim Batang Kali, 44300, Selangor
10. Awanmulan
Awanmulan is a sanctuary in the hills of Negeri Sembilan. The house on stilts sit on a hill slope overlooking a lush valley and surrounded by hills of green forests.
There are many species of birds to discover in these woods for the observant and enthusiastic. Several species of Raptors have been seen during their migrations, as have hornbills.
Rates: RM 75 – RM 1,600

Activities: Quick river visit, waterfall, river trek, mountain climbing

Website: https://www.awanmulan.com/

Address: Awanmulan Pantai Orchard, Kampung Baru Pantai, 71770, Negeri Sembilan
11. Sarang by the Brook
Only an hour's drive from Kuala Lumpur, this private holiday sanctuary provides a comfortable and chilled-out atmosphere and acts as a gateway to the natural landscapes and multitude of outdoor adventures.
Cradled between the tropical jungle and a quiet colonial-era town, where monkeys and birds are more evident, Sarang by the brook is styled using Shipping Containers as the basic building blocks.
Rates: RM 180 – RM 420

Activities: Night jungle experience, river trek, white water rafting

Website: http://www.sarangkkb.com

Address: Jalan Seruling 20,, 44000 Kuala Kubu Bharu, Selangor
12. Dusun Bonda
Tucked inside Ulu Tamu, Batang Kali, Selangor, Dusun Bonda is a small retreat with Villas and Glamping site that is privately-owned with breathtaking and serene view of nature in a fruit orchard.
"Dusun Bonda" literally means "Orchard" and "Mother" that carried the concept of a mother's love where the founder who wishes to create childhood memories for her daughter.
Rates: from RM350 – RM800
Activities: Jungle trekking, fishing, natural hot springs
Website: https://www.dusunbonda.com
Address: Dusun Bonda, Lot 2121 (2996), Jalan Ulu Tamu, Kampung Orang Asli Gurney, Ulu Tamu, 44300 Batang Kali, Selangor.
13. Templer Park Rainforest Retreat
A getaway that is closer to the heart of Kuala Lumpur, Templer Park Rainforest Retreat is just a short 30 minutes drive away from the city and you get to enjoy a retreat that is surrounded by the Kanching Rainforest Reserve.
Visitors get to enjoy their stay either in a Villa or Container that could host up to 30 pax depending on your choice of stay.
Expect a full escape from the hustle and bustle at this retreat where your neighbours also consists of cute animals such as monkeys, birds, butterflies and more! 😍
Rates: from RM1000 – RM2100
Activities: Swimming, trampoline, BBQ, kanching waterfall, hot springs, golf
Website: https://www.tprr.net
Address: 22, Jalan 3/2, Templer Heights, Templer Park, 48000 Rawang, Selangor, Malaysia
14. Rumah Kebun, Hulu Langat
Another ideal getaway for groups and families in the lush hills and greenery of Hulu Langat in Selangor.
Rumah Kebun offers Villas that are rustic and minimalistic in design that aims to combine the indoors and outdoors.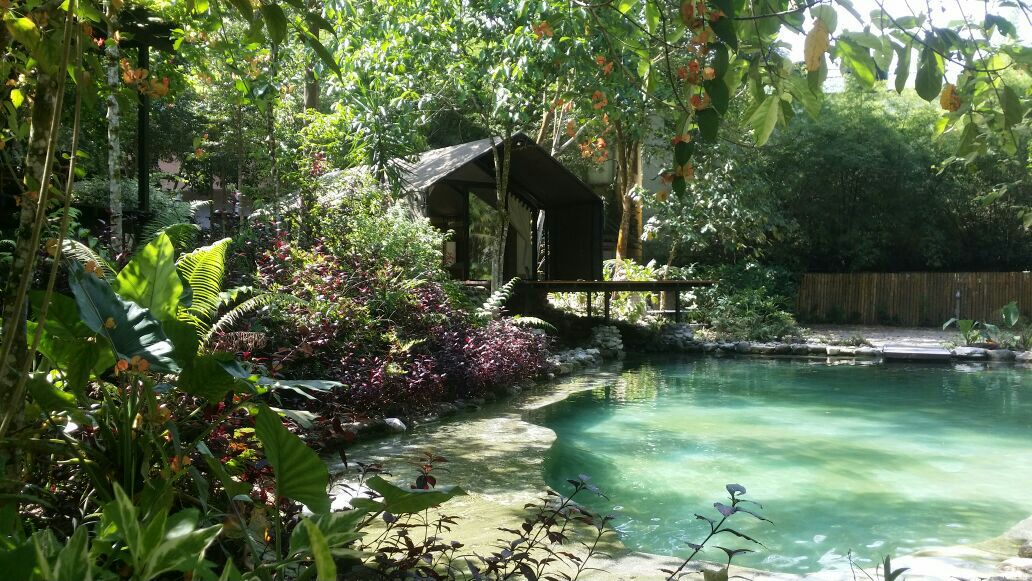 Rumah Kebun can accommodate up to 16 pax which is perfect for big families or group trips. Needless to say, this private retreat is very spacious with private living space for big groups to hang out and bond over a cup of tea.
Rates: from RM2,071
Activities: Swimming, BBQ
Website: http://www.rumahkebun.net/2020/02/rumahkebun-hulu-langat.html
Address: Kg Sg Semungkis, Batu 14 1/2 Hulu Langat, Selangor Darul Ehsan
15. Gold Coast Morib Resort
This one is for the families with kids or if you are one who enjoys water activities as Gold Coast Morib Resort is popular for their water amusement park! They are a 4 star resort located in Banting, usually crowded with families.
About an hour drive away from Kuala Lumpur, Gold Coast Morib Resort is perfect to unwind and chill with their beautiful hotel rooms that comes with attractive amenities such as swimming pools, fitness centre, garden and also a beach!
Rates: from RM152
Activities: Swimming, relax
Website: https://gcr.com.my/morib/
Address: PT. 294, Kawasan Kanchong Laut Mukim, 42700 Banting, Selangor
Here are the Top 15 retreats for your ideal getaway in Selangor and its neighbouring state with just a maximum of 1 hour 30 mins drive away from KL!
We hope you enjoy your time unwinding and relaxing and have an enjoyable time 😉
Recap of the Top 15 Retreats for a Perfect Getaway in Selangor
Sarang By The Brook
Sekeping Serendah (Selangor)
Daun Retreats
Tadom Hill Resorts
Farm Ville Cafe & Home Stay
The Sticks Guide
Beacon Resort
Balik Kampung Villa
Dusuntara Jungle Resort
Awanmulan
Sarang by the Brook
Dusun Bonda
Templer Park Rainforest Retreat
Rumah Kebun, Hulu Langat
Gold Coast Morib