Lifestyle
Check Out These 5 Sustainable Fashion Clothing Brands in Malaysia
Consumers are paying more attention to the origin, craftsmanship, manufacturing process, materials used by clothing brands.
As we were so used to the conventional fast fashion, many were not aware of the environmental damages and human rights abuse that these fast fashion industries cause.
These include extreme landfill, textile waste during the manufacturing process, as well as underpaid workers who OVERWORKED in producing the clothing and accessories you are wearing right now.
This is when sustainable and ethical fashion comes into the picture.
Where organizations are committed to change and challenge the norm of fast fashion into an ethical, sustainable and intentional living, where they contribute a lot more care and thoughts for the benefit of the environment, consumers and workers.
1. Earth Heir
"To build nations and generations as heirs of the Earth" is one of the key phrases that they live by.
Earth Heir is a social enterprise and local brand in Malaysia that celebrates craftsmanship through fashion apparels, accessories, lifestyle products and more.
Earth Heir prioritze conscious living. Each and every product from them is ethically produced by keeping their missions on creating sustainable livelihoods, preserving heritage craftsmanship and supporting refugee artisans in mind.
At the same time, keeping their products design-led with the team being actively involved and engaged in the process from A-Z.
Earth Heir is certified with the World Fair Trade Organisation (WFTO) and they also take pride in their pricing transparency as a social enterprise, while reinvesting majority of their profits to achieve their mission!
Contact Details:
+603 4265 1106 / +6013 211 7994
hello@earthheir.com
Location:
Earth Heir Studio
102, First Floor, Lorong Mamanda 2,
Ampang 68000, Selangor, Malaysia.
2. Real.m
Real.m of real material is a lifestyle brand inspired by real things, real people and real experiences.
They celebrate their love for natural experiences through art, design and retail products. To support their philosophy of real natural experiences, each product from them are carefully-selected to represent their mission.
Speaking of products, Real.m incorporates nothing but the most sustainable materials into their products. From quality to aesthetic, Real.m only introduce fabrics made from natural fibres in their collection of clothing and home living textile.
Much care and detail is paid to the creation of their products because Real.m aims to highlight traditional handicraft textile, natural & sustainable materials such as bamboo & non-GMO cotton as well eco-friendly processes such as vegetable dyeing.
Contact Details:
016 287 1750
real.managementoffice@gmail.com
Location
Level 1, Bangsar Village I,
Jalan Telawi 1, Bangsar Baru, 59100 Kuala Lumpur, Wilayah Persekutuan Kuala Lumpur
3. Biji Biji
Committed in challenging the current norm of fast fashion industry, Biji Biji is an ethical fashion label that pushes boundaries by transforming the alternative into the norm with their handmade fashion and lifestyle products that are made out of meticulously-selected materials.
Biji Biji place sustainability as their top priority in building its' brand by challenging the typical manufacturing process in many fashion industries because they realize the impact and influence that one fashion brand can bring to social and environmental issues.
Hence, Biji Biji aims to adapt a refreshing step at incorporating up-cycled materials in their product accessories such as pouches, handbags, and more.
When Biji Biji brand themselves as an ethical fashion label, not only do they pay attention to the materials of the products but also the people behind the brand. Biji Biji promises the public these:
No forced labour.
Fair wage.
Safe & hygienic working environment.
No child labour.
Made locally in Malaysia.
No discrimination.
No harsh treatment & abuse.
No excessive working hours.
Clean & safe housing for our employees.
Source: Biji Biji
Contact details:
03-6419 4755
fashion@biji-biji.com
Location:
Biji Biji Ethical Fashion,
Me.reka, Publika Shopping Gallery
Lot 1C, Level G1 (A4 Entrance)
Solaris Dutamas,
50480 Kuala Lumpur, Malaysia.
4. Muni
Muni is a sustainable fashion brand that takes pride in their traditional botanical dyes in their apparels such as fabrics, t-shirts, bags and more!
Their apparels are all hand-dyed naturally with botanical plants such as daun ketapang for yellow and kayu sepang for dusky pink.
You'd be surprised by the result of these natural dyes on various products of Muni, they all look astounding and aesthetically pleasing to the eyes! Courtesy to our mother nature.
Muni saw the advantages of natural dyes that it could bring to the environment and public. Not only does it protect the planet from chemicals and industry dyes, Muni believes in it's beauty that is imperfect yet honest and wanted to incorporate the authenticity of these beautiful natural dyes in their apparels. It is like wearing/carrying nature.
Although natural dyes were mainly seen in traditional apparels such as batik, Muni added a twist by ensuring their crafts and designs are timeless and appealing to younger crowd. Hence, the minimal style of Muni.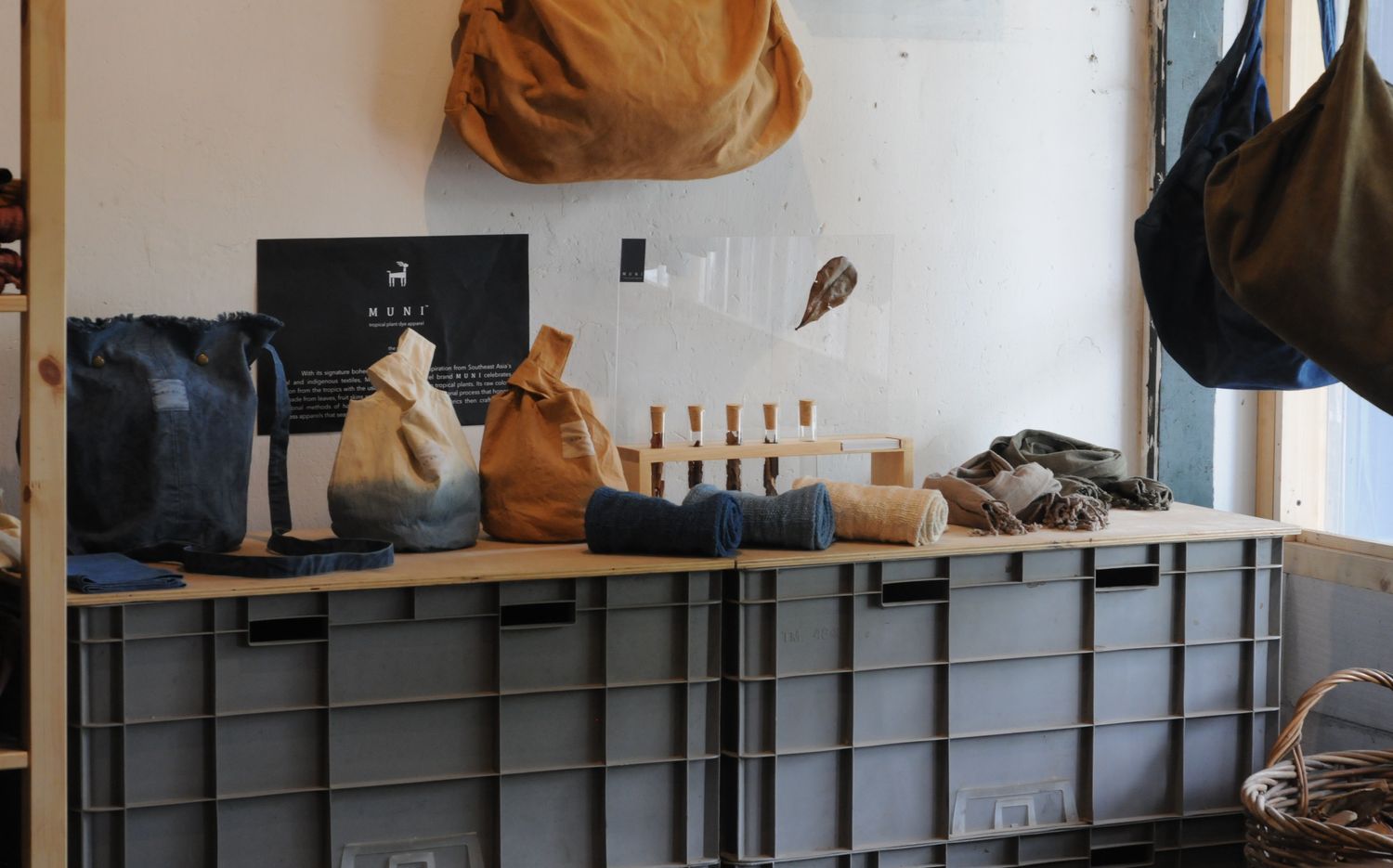 Contact details:
017-619 9315
munimalism@gmail.com

Location:
https://www.munimalism.com/pages/stores

5. The Little Clothing Shop
The Little Clothing Shop is a sustainable fashion label rooted in pushing culture forward, creating change and ultimately — a new way to be for women.
Their apparels range from face masks to women's clothing and are made out of colourful fabrics and fun prints such as batik.
TLCS produces zero-waste clothing ethically by curating their designs strategically in ensuring that no fabrics go to waste during the process of making each piece of clothing.
They also aim to be kind to the planet and people by being ethical individuals, each taking responsibility in their work and not contribute to any textile waste or landfill in the process of producing clothing.
In addition, TLCS also advocates for fair pay towards workers who work hard behind the brand, challenging the conventional fast fashion industry that underpay workers who overworked.
Contact details:
info@thelittleclothingshop.com
Location:
LTTL CLOTHING SHOP
B-5-5, Block B, Megan Avenue 1,
No. 189, Jalan Tun Razak,
50400 Kuala Lumpur, Malaysia.
Recap of the Top 5 Sustainable & Ethical Fashion Clothing Brand in Malaysia
Earth Heir
Real.m
Biji Biji
Muni
The Little Clothing Shop
Consumers are now more intentional and responsible in the clothing and accessories that they purchase for their body.
If you are an environmentalist or someone who is passionate about craftsmanship, ethical and sustainable fashion, be sure to check these Malaysian brands out!