If you are looking for a short getaway or day trip to a quieter and less touristy state in Malaysia, Ipoh in Perak is a place you should not miss!
Visitors are often spoilt with a variety of appealing local food, street art, historical heritage and fun family activities.
In this article, we have curated a list of things to do in Ipoh from morning till night to ease your burden from planning the perfect itinerary for your trip.
Let's go!
1. Breakfast at a Kopitiam (Coffee Shop)
Every visit in the morning to the kopitiam in Ipoh is accompanied by crowds and long queues.
Kopitiam + queues in Ipoh seem to be inseparable!
This further proves that the kopitiams there are trustworthy. You can trust the uncles and aunties behind the counters and kitchen to serve you some warm, crispy kaya + butter toasts and a cup of famous Ipoh white coffee!
You can hardly miss a kopitiam when you step your foot into Ipoh. Hence, worry not. Just pick one with the most crowd and you are good to go!
After all, that is how most Malaysians judge the quality of a restaurant right? Crowds are our best measurement!
2. Walk down Ipoh Heritage Trail
What better idea to exercise and do some walking after some comfort breakfast in a kopitiam?
Ipoh is a city rich in history which explains the historical building and architecture along the trail. It may get a little sunny in the morning or noon hence, do not be shy to carry an umbrella or a hat with you.
There are many attractions along the heritage trail of Ipoh such as the railway station, Majestic hotel, Ipoh tree and more!
It is perfect to admire and embrace these OG spots while taking some photos with your family.
3. Explore Ipoh Wall Mural Arts
Mural arts across random walls of Ipoh is another signature symbol of what makes Ipoh, "Ipoh". It is definitely a tourist attraction in Malaysia as it adds more character to Ipoh as an old town. It is also seen in other states such as Penang.
The wall arts are painted by a talented street art artist Ernest Zacharevic. Thanks to him, Ipoh now looks stunning as ever!
Here are some of our favourite arts. Just look at the details!
4. Window Shop at Concubine Lane
Concubine lane is another spot that is deeply rich in history with interesting stories of how it came about. The lane was only transformed and repurposed later around 2015-2016.
This lane is vibrant and colourful. Usually crowded especially when the lane is really small which makes it a challenge to roam around. The lane is filled with pop-up stalls with sellers displaying and selling unique souvenirs, childhood snacks and craft items.
It is also a great place to take some instagram-worth photos!
5. Try some Ipoh's famous white coffee and egg tarts
Alright we hear you, we hear you! After tons of walking and exploring the heritage trail, mural art and concubine lane, you must be exhausted already by now.
Let's head over for tea!
It must be a crime to not try one of the things that makes Ipoh famous; white coffee and egg tarts! Do visit Nam Heong 南香茶餐室 for some freshly baked egg tarts, white coffee, and even some dim sum too.
This kopitiam is constantly packed with humans because of their specialty; egg tarts and white coffee. The crowd here definitely makes another great reassurance for us Malaysians to ensure they are serving some legit stuff!
6. Chill at Kong Heng Square Market
After all the adventures under the hot sun and open air, how about we take you to somewhere cooler?
Introducing Kong Heng Square Artisanal Market, nestled quietly at the corner of Panglima Road. It is so quiet that some may not notice the space. However, Kong Heng Square is also no stranger to many visitors in Ipoh.
It is like Concubine lane, but more spacious, modern and some said even better!
The space displays the vibe of a flea market with various pop-up stalls that includes snacks, clothing and souvenirs as well. There is also a Plan B cafe tucked in the market.
7. Enjoy Breath-taking View at Tasik Cermin (Mirror Lake)
As the sun begins to set and the air becomes cooler, no better place in Ipoh than Tasik Cermin to have a chill stroll. This place is a hidden forest-like gem that is surrounded by limestone karst formations, it feels like a movie!
Tasik Cermin has received much praise from visitors. It is popular for its magical view that no photographs can do its justice. Hence, it is highly recommended that you witness this beautiful place yourself with your own eyes!
8. Visit Ipoh's Cave Temple
Speaking of limestone karst formation, the cave temples in Ipoh are an essential part of what makes Ipoh unique. Just like how KLCC is an integral part of Kuala Lumpur.
You'd be surprised to see the number of people who are keen to visit these temples in Ipoh. Each visit is yet again accompanied by crowds and crowds! However, we can see why crowds love these temples; because they are beautiful!
You may include Kek Lok Tong Temple into your list. I won't ruin the surprise for you about this temple but all I can say is, this place is truly magnificent!
9. Be Adventurous at Kellie's Castle
*Psstt* Ladies and gentleman, rumour has it that this castle is haunted. I still remember the stories my primary school teacher used to scare my classmates and I with as we learned about this mysterious castle in our textbooks.
However, that makes it worth a visit even more! It is an abandoned Scottish Mansion that is incomplete. Today, this castle is one of the most popular attractions in Malaysia and is usually crowded (again) during festive seasons.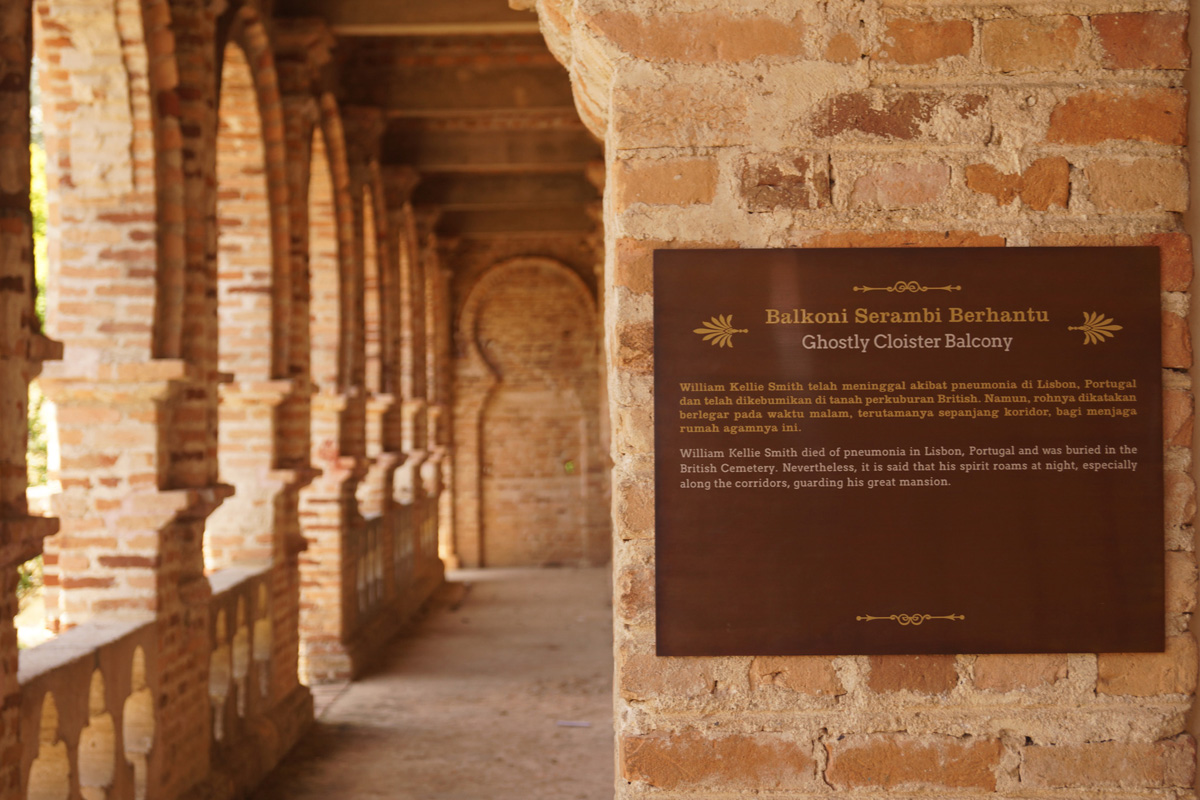 I have to say, there is nothing special about the space but the vintage architecture which I enjoy. However, if you are curious on the castle, go for a visit!
10. Jalan-jalan at the Night Market
We have come to the evening of Ipoh after all the adventures in the morning and afternoon.
Some food would be ideal at this point. Instead of dining in a restaurant, how about giving the night markets here a try?
We all know not all night markets are available everyday, but worry not we have found you one perfect night market to visit any day of the week (except Mondays) and that is the Ipoh Walk Night Market!
Started only in late 2017, Ipoh Walk is known as the largest night market in Malaysia today. Locals love to jalan-jalan here as well and it is usually busy with many people dining and tapau-ing their favourite street food.
11. Enjoy the Night View at Kinta Riverfront
Kinta Riverfront, located behind one of Ipoh's top hotels; Kinta Rivefront Hotel & Suites is one spot that I will always visit whenever at Ipoh.
It is a mini I-city, like in Shah Alam, KL, with stunning colourful LED lights with shapes like a tree all over the place.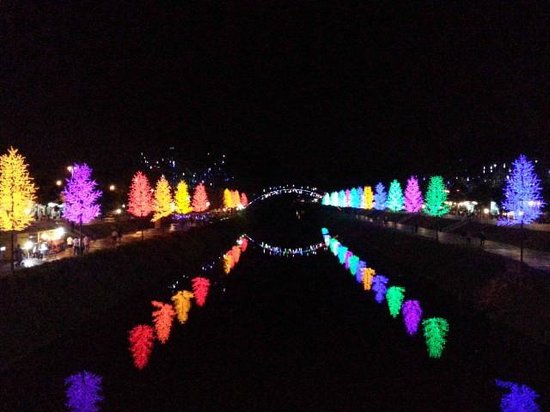 It is very relaxing to stroll on a breezy evening or night. On some special occasions, Kinta Riverfront also hosts pop-up stalls, turning the beautiful space into a bazaar market.
Definitely worth a visit for wind down after a long day! Not to mention, the colourful lights make the entire space uniquely romantic.
12. Wind Down at Hot Spring Tambun Lost World
This is for the extra peeps who prefer to relax or wind down by doing something more exciting than just strolling or walking!
This Hot Springs is only open in the evening. If you'd like a place to do nothing after a long day, enjoy soaking in some hot steamy water to relax!
Besides the hot spring, there are other night activities lined up for you too such as the petting zoo luminous forest and some action performances. A night in Ipoh is definitely not mundane at all with these attractions available.
13. Drink Up at Tiga Cocktail Bar
Dear alcoholics, we did not forget you! We understand some of you would prefer to have a glass of refreshing cocktail or drink to end the night and chit-chat with your friends or family. Luckily, Ipoh continues to amaze us.
Tiga is a speakeasy bar hidden in an alley near the Market Lane. The space welcomes visitors with its warm ambience accompanied by dim lights, which immediately feels very relaxing already as you enter.
Their cocktails look really presentable with very unique names with different stories behind each name given to the drinks. We love a cultured and thoughtfully-curated menu!
Recap of our Top 13 Things To Do in Ipoh:
morning:
1. Breakfast at a Kopitiam (Coffee Shop)
2. Walk down Ipoh Heritage Trail
3. Explore Ipoh Wall Mural Arts
4. Window Shop at Concubine Lane
5. Try some Ipoh's famous white coffee and egg tarts
6. Chill at Kong Heng Square Market
7. Enjoy Breath-taking View at Tasik Cermin (Mirror Lake)
8. Visit Ipoh's Cave Temple
9. Be Adventurous at Kellie's Castle

night :
10. Jalan-jalan at the Night Market
11. Enjoy the Night View at Kinta Riverfront
12. Wind Down at Hot Spring Tambun Lost World
13. Drink Up at Tiga Cocktail Bar
Remember to save this page and we hope you enjoy your trip in Ipoh, Perak!