As a local Penangite, I am happy to share what Penang has to offer.
Besides char kuey teow, we have many other things to do as well!
Let us start with what we can do when the sun is still out.
1. Take pictures with street arts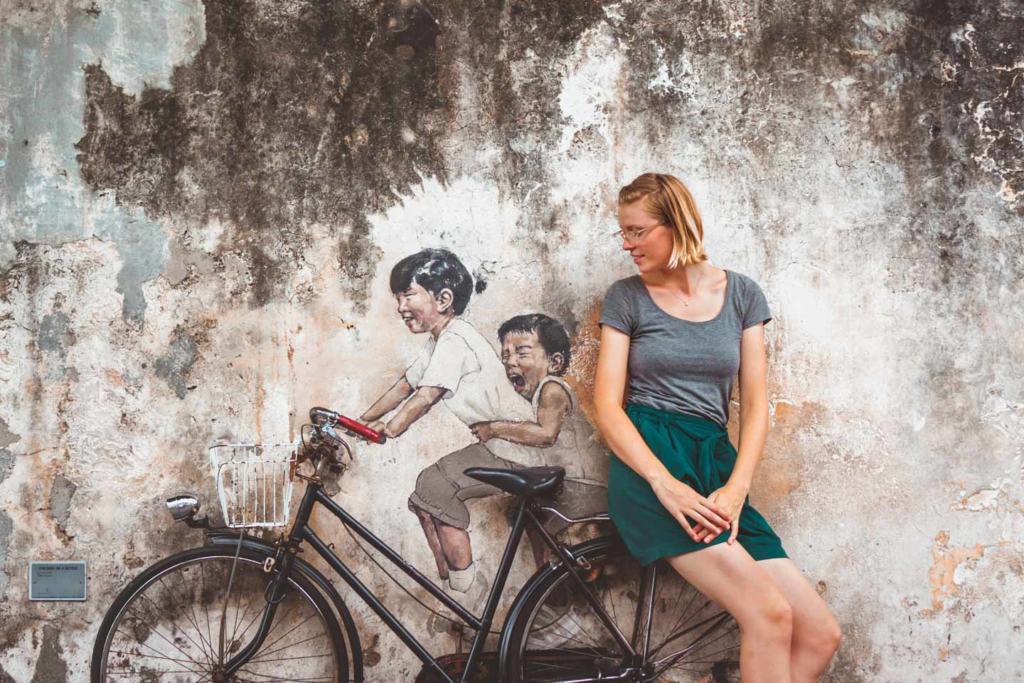 If you're a Malaysian you probably know about the famous street art featuring a bicycle and 2 kids.
But that's just 1 of the many street arts in Penang. Take a walk around Georgetown and you will find many similar street arts that you can pose for a picture or two.
Fun Fact: This is UNESCO World Heritage.
2. Visit Cheong Fatt Tze Mansion
If this looks familiar to you, that's because it was featured in Crazy Rich Asians during the mahjong scene.
You can go there for sightseeing purposes and bragging rights *cough* pretend to be a Crazy Rich Asian *cough*. This is also another UNESCO Heritage site.
3. Jalan-jalan Cari Makan at Georgetown
Jalan-jalan cari makan literally means look for food while walking. What is a better place than Penang to look for food?
Penang is famous for its food. Be it Char Kuey Teow, Nasi Kandar or Banana Leaf, Penang has it all!
As a Penangite, I would recommend that you jalan-jalan cari makan at Georgetown because the variety of food you can find there is endless.
4. Take a Walk at Clan Jetty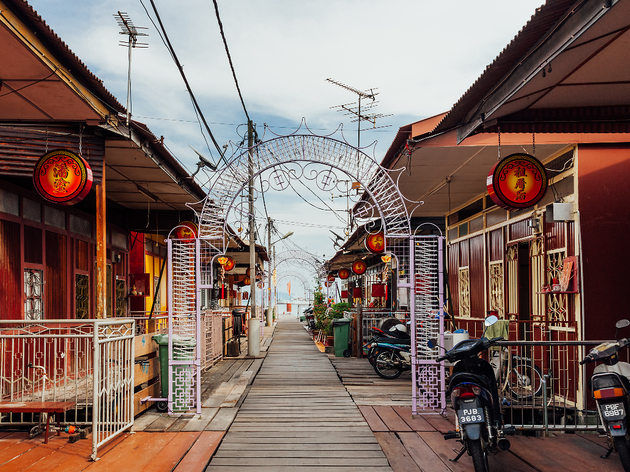 Situated within walking distance of Armenian Street, where all the street murals are, visiting Clan Jetty is a must in your to-do list.
If your surname is Chew, Lee or Tan, you might feel like you're home because this is where most people who share that surname live.
The residents of Clan Jetty recently imposed a curfew of 9pm so remember not to overstay your welcome.
5. Gurney Drive
Listed as one of the 25 best streets worldwide to visit by the Australian travel magazine, The Traveler, Gurney Drive is famous for its hawker stalls.
They serve various kinds of dishes and are also divided into two parts which is Halal and non-Halal.
Besides food and its long street facing a beach, Gurney has a mall and several hotels there as well if you plan to stay at a place with access to these conveniences.
Now that the sun has set, let's move along to evening activities.
6. Take a Walk in Penang's Pasar Malam
Everyone knows Penang has the best food, and the best and cheapest place to find them is at a pasar malam or night market.
Go with an empty stomach, leave with a satisfied stomach without burning a hole in your pocket.
The pasar malam is held in different places in Penang each day so it really depends on which day you decided to go. A simple Google search will show you the night market to visit on each respective day.
7. Visit KOMTAR Tower
Beautiful isn't it?
The highest and also the most iconic building in Penang, KOMTAR stands 65 levels tall. If you're not afraid of heights, do go to the highest floor to enjoy a walk on Rainbow Skywalk.
There's also a restaurant here if you plan to enjoy Penang's view while dining.
Tip: Go on weekdays to avoid long lines.
8. Experience Trishaw Rides
If you've never ridden a trishaw before, you have to do it before you miss the opportunity. The number of trishaw rides kept decreasing over the years. Currently, only 1 or 2 trishaw makers remain.
Similar to taxis, you tell your rider your destination and he takes you there. They're much slower and cheaper than taxis but the experience you get is like no other.
You can feel the fresh wind on your face, you can truly take in what Penang has to offer as the view slowly passes you by.
9. Visit Penang's Love Lane
Once infamous as the street for prostitutes, now it's a place for foreigners to meet and chill. Locals rarely hangout there but don't cross it out of your list just because. Love Lane has a lot to offer.
Love Lane is the go-to place in Penang for nightlife. Live music and cheap beer are some of the things you can find here. You may also come across a fruit stall selling cut-out fruits at just RM2 per piece.
10. Kek Lok Si Temple
If you're in Penang don't forget to visit the biggest Buddhist temple before you leave.
Perched on a side of Penang Hill, and hosting a 36.57mt-high statue of Goddess of Mercy Kwan Yin, the temple is also one of the biggest in Southeast Asia.
The best time to visit is in January and February because it'll be decorated with hundreds of lights and lanterns for Lunar New Year.
Recap of Things to Do in Penang
During the day:
Take pictures with street arts
Visit Cheong Fatt Tze Mansion
Jalan-jalan Cari Makan
Take a Walk at Clan Jetty
Gurney Drive
Night:
Take a Walk in Penang's Pasar Malam
Visit KOMTAR Tower
Experience Trishaw Rides
Visit Penang's Love Lane
Kek Lok Si Temple
Pack up and let's go!