Perak is often overlooked when deciding where to go in West Malaysia. Most would rather travel to Penang for its food or Melaka for its historical sites.
But if you thought of giving Perak a chance, you may refer to the list below for things to include in your itinerary.
1. Eat Chau Yin (Fried Flour Ball) in Kampar
Kampar is well-known for a few things but foodies will know Kampar is famous for its chau yin. The flour balls are made with fish so it's Halal and Muslim-friendly. It is a must-try for everyone visiting Kampar, Perak.
The balls cost about 20 sen per piece. According to my great aunt, it used to cost only 5 sen per piece 😮
2. Visit Concubine Lane in Ipoh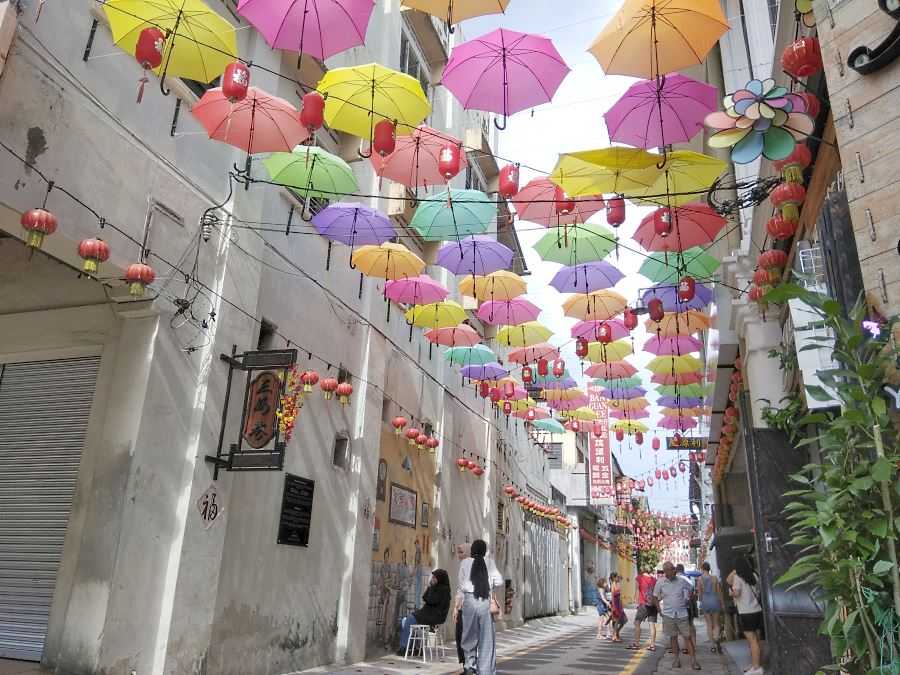 I once went on a road trip with a uni friend to Ipoh just to visit Platform Cafe. Why travel to another state just to go to a cafe, you ask? Well, Platform Cafe is not an ordinary cafe. It is a Harry Potter theme cafe. If you're a Potterhead (Harry Potter fans), you should include it in your bucket list.
But that's not all Concubine Lane in Ipoh has to offer. I was amazed and felt really happy that I actually drove all the way from Selangor to Ipoh for that one day trip because one of the shops in Concubine Lane is ACTUALLY magical, not just the decor. *cough* Platform Cafe *cough*.
What I meant by that was one of the shops is actually a magic shop. They even have free magic shows at certain times and we were lucky enough to be one of the patrons to watch free magic shows. I was even a volunteer for one of its acts and let me tell you, my mind was blown 🤯 That was the first time I witnessed a flying table in my life and it was hovering just above me.
3. Have Fun at Lost World of Tambun
Another project by Sunway, Lost World of Tambun is the most famous theme park in Perak. This self-contained wonderland is surrounded by lush tropical jungle, natural hot springs, breathtaking limestone features of 400 million years of age and seven amazing attraction parks making it the ultimate day and night destination for a unique eco-adventure for visitors of all ages.
Just a stone's throw away is the Lost World Hotel, a perfect snooze chamber after a long day of adventure.
4. Explore Kek Long Tong Cave Temple
Dubbed as a "must-visit" for cave lovers, Kek Long Tong Cave Temple is free, clean, and well-maintained. It even looks like a hidden haven like in the movies.
There's a beautiful garden and lake just behind the temple that you can walkthrough. If you had visited this place back in 2007 or earlier, you may even catch a glimpse of geese and monkeys. Nowadays, the animals are no longer there.
5. Drink White Coffee in Ipoh
Since you're already in or planning to visit Perak, you shouldn't miss the opportunity to try authentic Ipoh White Coffee.
Sitting down in a kopitiam, sipping on a hot White Coffee will definitely give you a nostalgic feeling.
6. Check Out Book Xcess
Nerd or geek your way into Book Xcess in Kong Heng, Ipoh. If you're a book lover like me you probably would want to check out every Book Excess branch there is, right?
Fun Fact: This particular branch of Book Xcess is more special than the rest because it used to be a bank.
7. Visit Kellie's Castle

An abandoned manor in ruins, patrons can explore the building and grounds to admire the Moroccan-inspired architecture!
Another reason to visit this place is the admission fees. They're fairly low. Even for tourists too! The admission fee is RM 4 for Malaysian adults. And RM 5 for foreigners.
8. Dine at Famous Restaurant Pun Chun in Bidor
Pun Chun is a brand name known throughout Perak and beyond. Their signature duck noodles in a must-try.
Over the decades, Pun Chun has expanded, not only in terms of food offerings within its restaurant, but the brand has also extended to Selangor in Ara Damansara.
9. Take a Ferry to Pulau Pangkor
If you plan to go to Pulau Pangkor, you have to drive to Lumut (1 hour 45 minutes) and take a ferry (another 45 minutes) to Pangkor Island so plan to stay at least a night if you go!
Hornbills frequent the island so you will likely catch a glimpse of at least one while you are there!
10. Eat at Durbar
Durbar is the oldest bar and restaurant in Perak with 100+ years' worth of history tied to it. Besides visiting the place for its interior and exterior, the food is amazing too!
According to Seow (the owner), Durbar is a Persian-derived term, which means a great ceremonial hall that was widely used during the days of the British Raj, where dignitaries and high society hold reception and gatherings.
Recap of The Things to do in Perak:
Eat Chau Yin (Fried Flour Ball) in Kampar
Visit Concubine Lane in Ipoh
Have Fun at Lost World of Tambu
Explore Kek Long Tong Cave Temple
Drink White Coffee in Ipoh
Check Out Book Xcess
Visit Kellie's Castle
Dine at Famous Restaurant Pun Chun in Bidor
Take a Ferry to Pulau Pangkor
Eat at Durbar